Regular price
$132.00
Sale price
$110.00
Unit price
per
Sale
Sold out
100G / 3.5 FL OZ
Share
View full details
BUY 5, GET 1 FREE!
Details

Now you get to pick your own 6 scents!

Who doesn't want all natural, amazing smelling, toxin and chemical free deodorant that actually works?! No really, it does. When you read our reviews, you will definitely want to give us a try.

Smell your best with our All Natural, Aluminum & Baking Soda Free Deodorant! Only 8 ingredients with no artificial fragrance. The best overall, odor fighting ingredients makes our deodorant the best creamy formula you'll find anywhere. It's like moisturizer for your pits!

Hand poured into our newer "easier to use" paper tubes. 

For those of you who have sensitive skin and may have a slight reaction to baking soda (the active ingredient in most aluminum free deodorants), we have formulated an amazing all natural deodorant made with Magnesium Hydroxide. We also carry an unscented version for the super sensitive because some people can be sensitive to essential oils. (not recommended for pregnant Mothers) 

Our containers are safe for the environment and 100% biodegradable. Just throw it straight into your municipal greens bin when finished.

Green, Natural deodorant hand poured in Surrey, BC, Canada.
Individual Scents

Citrus Mint - Sweet Orange (Citrus Sinesis) | Peppermint (Mentha x Piperita)

Creamsicle - Sweet Orange (Citrus Sinesis) | Vanilla (Vanilla Planifolia)

Lavender Bergamot - Lavender (Lavandula Angustifolia) | Bergamot (Citrus Bergamia)

Lavender Rose - Rose Geranium (Pelargonium Roseum)

Lavender Woods - Lavender (Lavandula Angustifolia) | Cedar Texas (Juniperus Ashei)

Lumberjack - Cypress (Chamaecyparis Lawsoniana) | Birch (Betula Lenta)

Root Beer - Cypress (Chamaecyparis Lawsoniana) | Birch (Betula Lenta)

Rose Vanilla Sage - Rose Geranium (Pelargonium Roseum) | Vanilla (Vanilla Planifolia) | Clary Sage (Salvia Sclarea)

Sweet Orange Patchouli - Sweet Orange (Citrus Sinesis) | Patchouli (Pogostemon Cablin Benth

Yogi - Ylang Ylang (Cananga Odorata) | Cedar Atlas (Cedrus Atlantica) | Bergamot (Citrus Bergamia)

Unscented - No essential oils.
Ingredients

(+Organic) +Coconut Oil (Cocos Nucifera) | +Unrefined Shea Butter (Vitellaria Paradoxa) | Arrowroot Powder (Maranta Arundinacea) | +Beeswax (Cera Alba) | Avocado Oil (Persea Gratissima) | Magnesium Hydroxide | Kaolin Clay (Kaolinite) | Essential Oil: Lavender Bergamot (Lavandula Angustifolia & Citrus Bergamia)

Aluminum & Baking Soda Free!

No nasty chemicals, parabens,
toxins or artificial ingredients are ever used.
Detoxing

PLEASE, don't give up! Here are some tips to help you detoxify!

Detoxifying from commercial deodorants can take a couple of days to a couple of weeks or even more because you are allowing your body to breathe again, and letting the bad chemicals release from your system.  Some find it takes a week or so, others it doesn't take any time all.  After using our deodorant for a couple of weeks you may even find that you don't need to apply every day! For pregnant women especially, our unscented deodorant (as some essential oil is not safe for pregnancy) is the best one in the world not only for effectiveness in helping you sweat less and decreasing odor but for your health! Our aluminum free, all natural, handcrafted deodorant is 100% pure.

Do you want the absolute best product for you and your family's health? Give the Moose a try!
Directions

Apply to clean skin, under each arm. Be careful applying directly after shaving as it can cause irritation.

** Important Deodorant Tube Instructions: at the bottom of the paper tube is a circular wafer that pushes up the deodorant. You MUST push this straight up in the middle to get the deodorant to move up the tube. If you push on either side, the wafer will go up on an angle and the deodorant can squeeze out the bottom. PRO TIP - You can prop a flat object, that has a flat top that will fit (slightly smaller in circumference) inside the tube on a counter. Put your deodorant on top of the that object and press down slowly. This will help push up the deodorant evenly. ONLY push up slightly so a small amount comes up (1/10th of a centimetre) at a time or what you are going to use that day. Raise your arm up and back, so you open your armpit so it is flat and apply in one direction in a downward motion.

Also, the lids do not give you any room for the deodorant to stick way up past the top of the tube, so don't push the lid down all the way. Leave the lid a little bit higher up when you close it. It might be a little finicky at first but you'll get the hang of it and if it takes some effort, well... everything fabulous in life takes effort! A little patience = less plastic in the world. Hope this helps!
I tried no fewer than 3 other aluminum free deodorants before Gentle Moose and not one of them worked for me. In fact, most of them actually made me smell worse by the end of the day than I would with no deodorant at all. I had been losing hope, thinking that I would need to either wear unhealthy antiperspirants or continue to be 'that smelly girl' around coworkers and friends. So I was thrilled to discover that Gentle Moose actually works for me and keeps me smelling good all day. Super impressed and thankful for this product!
Cruelty Free

Our ingredients are 100% pure, ethically sourced and never tested on animals.

100% Recyclable Packaging

We are 99% plastic free and we use old newspaper for our packaging!

30 Day Money Back Guarantee

If you don't love our products, just send us your unused portion and we will gladly refund your money.

Made In Canada

Everything we hand craft is proudly made in Canada.
Always hand crafted in Canada
Vancouver, British Columbia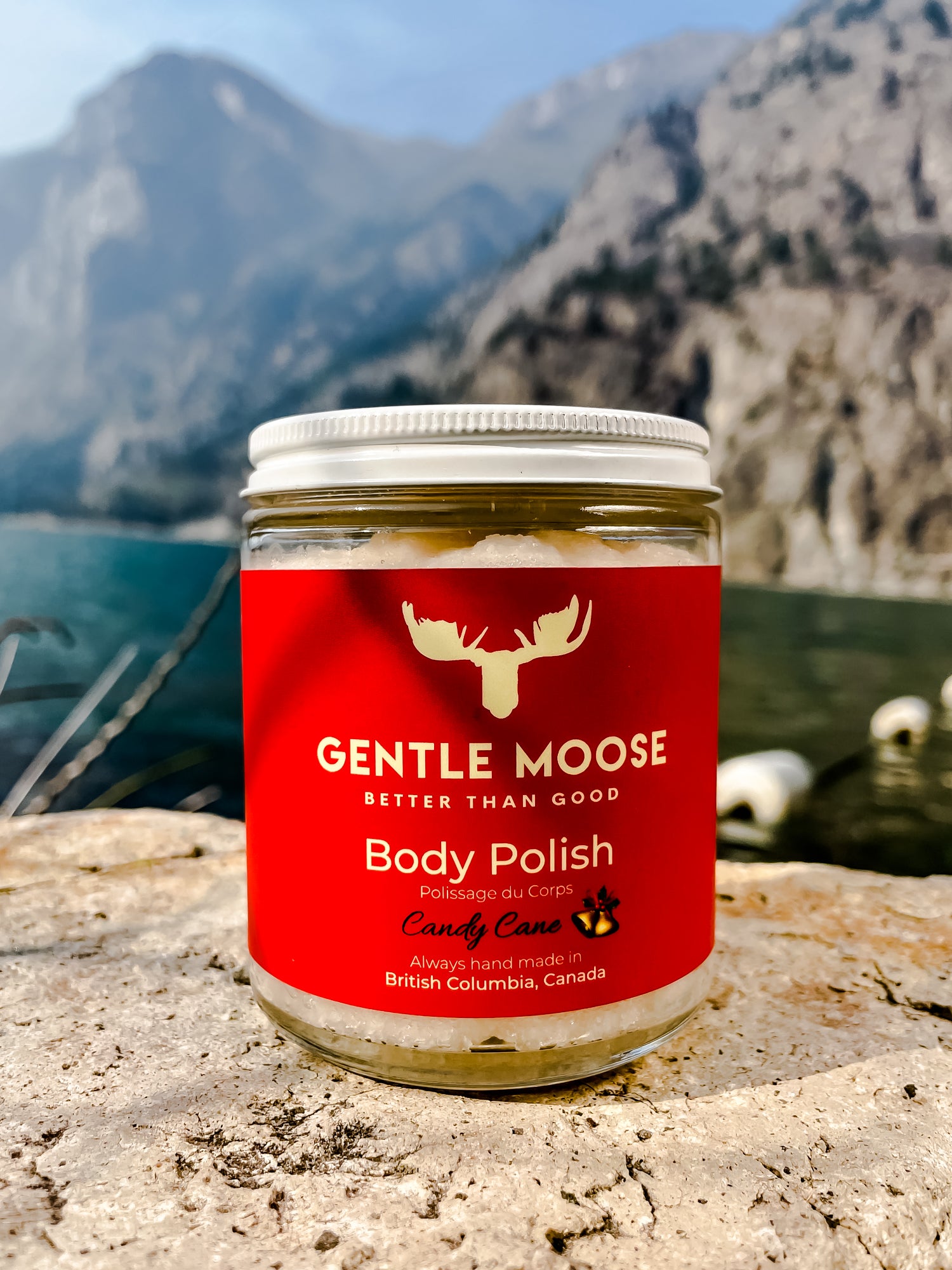 Candy Canes Anyone?
Our seasonal Candy Cane (Peppermint Vanilla) Body Polish will not only exfoliate your whole body, it also brings some Christmas Cheer!
Candy Cane Me!
Nurturing Face Oil
This is the pinacle of facial nourishing! Once you try this, you will never go back to cream.
Get Soft Skin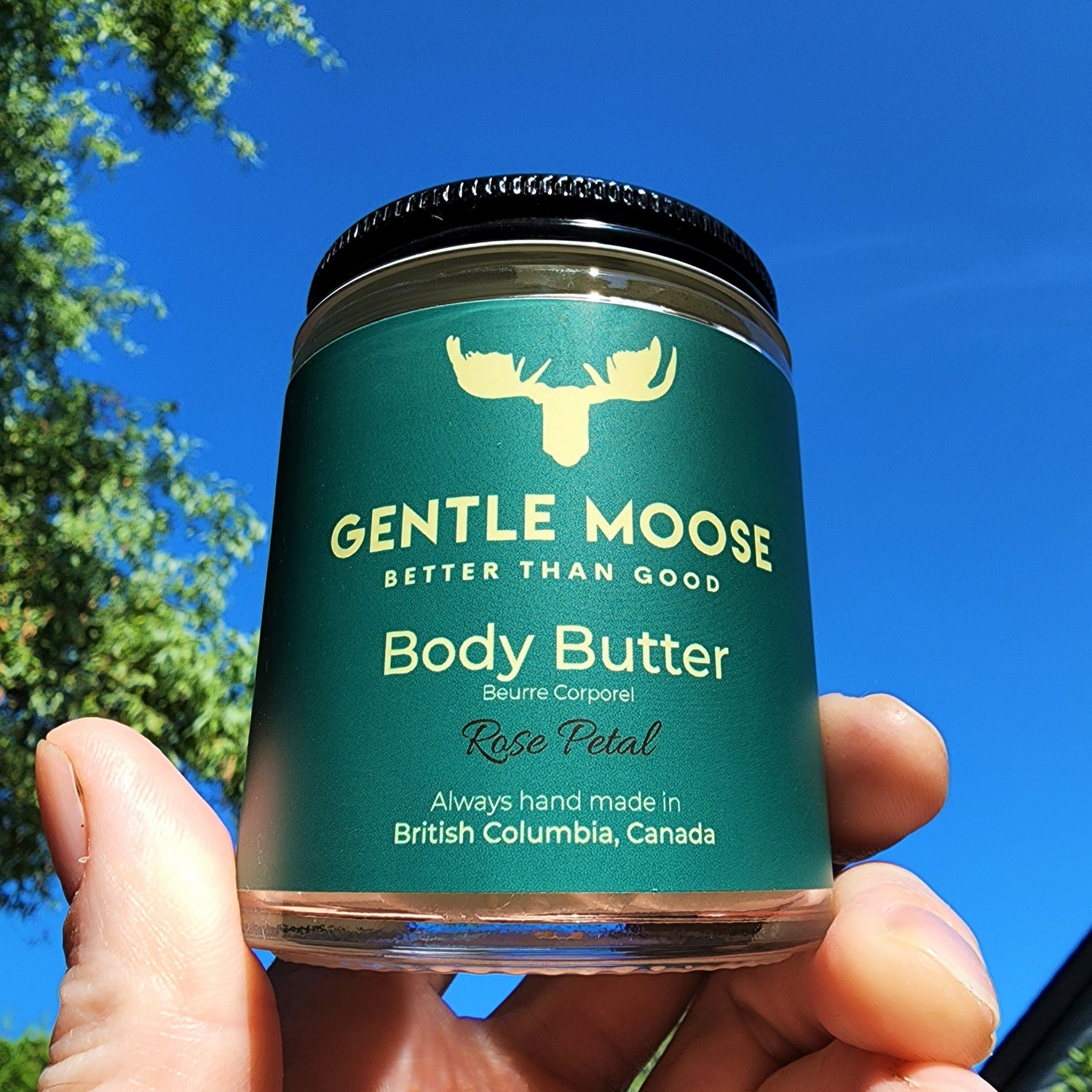 Moisturize Like A Boss!
Our intensive moisturizing "Whipped" Body Butter smells so good you'll want to use it all day long! Super, deep moisturizing is the name of the game with this beauty!
Go Deep!