250G / 8.8 OZ
Regular price
Sale price
$22.00
Unit price
per
Sale
Sold out
View full details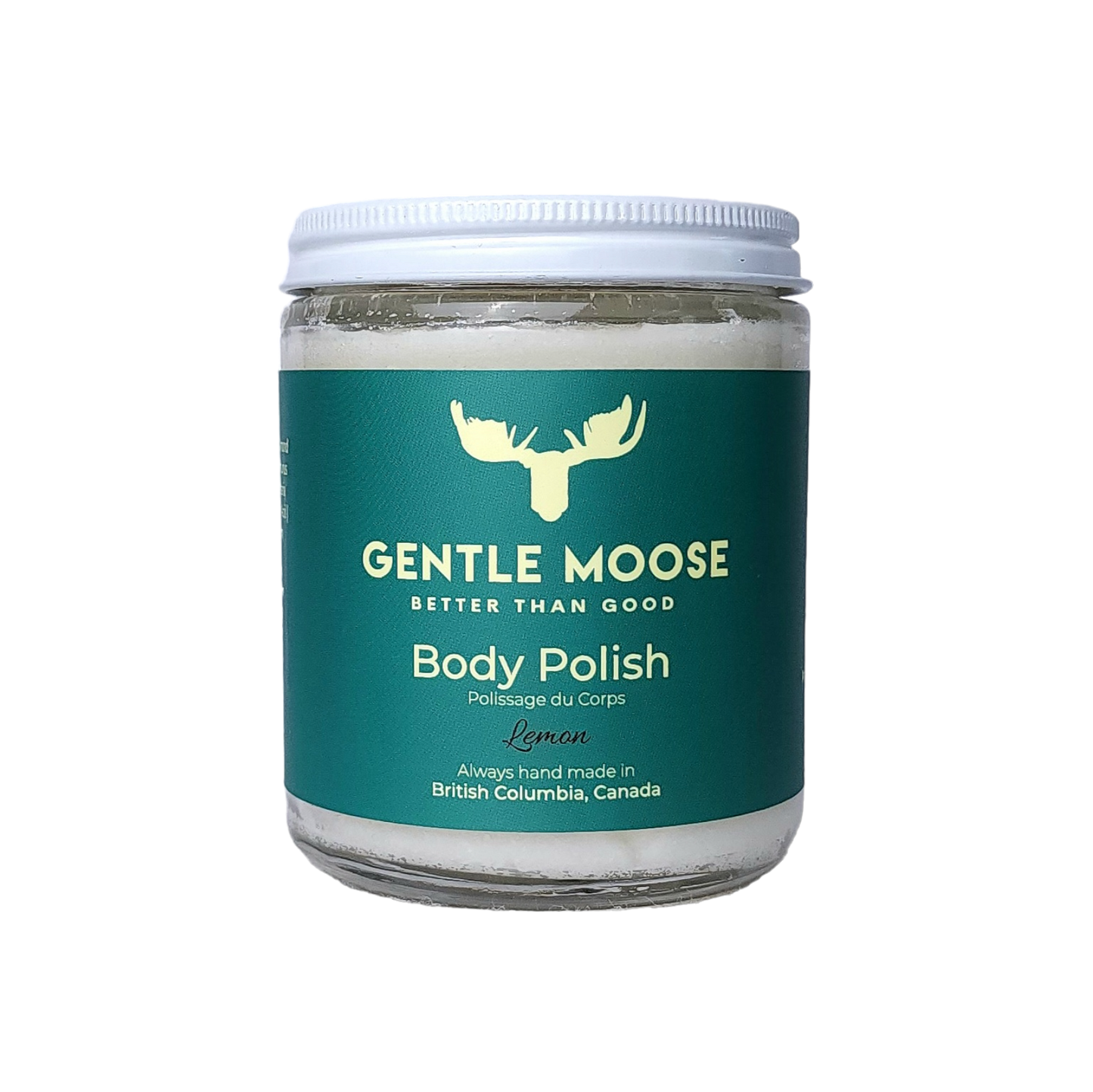 Deep Exfoliation
Highlights

Gentle Moose Body Polish - the secret to skin so soft, you'll be mistaken for a real-life dolphin! 🐬🌟

Our Body Polish is like a spa day for your skin - it's the VIP treatment your body deserves. Imagine feeling as smooth as a silk sheet, looking radiant enough to rival the sun, and having skin so soft, it practically whispers "touch me" to anyone who sees it.

Start or end you day with exfoliation that sweeps away those pesky dead skin cells, making room for your freshest, most fabulous skin to shine through. Treat your body to a luscious, hydrating blend of organic ingredients and essential oils that'll make you feel like a million bucks. 🌟💃🌈

If you are suffering from extra dryness, use it along with our Whipped Body Butter and you will glow all day.
Ingredients

Sugar (Saccharum Officinarum) | Sweet Almond Oil (Prunus Dulcis) |
Apricot Kernal Oil (Prunus Armeniaca) | Organic Shea Butter (Vitellaria Paradoxa) | Emulsifying Wax NF | Stearic Acid | Essential Oils: see individual scents
Scent

Lemon - Bright and uplifting

Lemon (Citrus limonum)
Directions

Here's how to use Gentle Moose body polish:= to make your skin shine!


1. Begin by taking a regular shower to cleanse your body with a natural clean soap. We suggest one of our hand crafted bars. They are amazing! The warm water helps to open up your pores, making it easier for the body polish to exfoliate your skin effectively.

3. Take a small amount of body polish in your hand, then add more if needed. Gently massage the body polish onto your wet skin in a circular motion, focusing on rough or dry areas, such as elbows, knees, and heels. Spend extra time on areas that may need more exfoliation, such as ingrown hair-prone areas or areas with rough skin. We even suggest turning the water off to take some extra time to really do the job right.

4. It's important not to scrub too vigorously, as this can irritate your skin. A gentle, circular motion is sufficient to exfoliate effectively. If you have sensitive skin, be even more gentle.

5. After you've applied the body polish and exfoliated your skin, turn the water back on and rinse it off completely. It will feel super clean and moisturized, but not slippery

6. After using our body polish, your skin may be more sensitive, so it's essential to follow up with a good moisturizer. That is where Gentle Moose Body Butter is essential. Applying it while your skin is still warm and towel dried can help lock in hydration.

7. How often you get to use body polish varies depending on your skin type. For most people, using a body polish once or twice a week is sufficient. Over-exfoliating can be harsh on the skin, so be mindful of how your skin reacts.

The shower will be slippery from the oils so PLEASE be very careful with your footing, and maybe give it a little soapy rinse before stepping out.

Now go GLOW!
⭐⭐⭐⭐⭐
"Love this scrub!!! I bought the lemon and it's such a refreshing scent. It exfoliates and moisturizes! Made with natural ingredients, I will buy this again and again!!"
~ Melissa J.