Soft, silky smooth hands.
Highlights

🌞 Everyday Indulgence: Our Hand Lotion isn't just a skincare product; it's a daily indulgence. Whether you're on the go or winding down for the night, it's the perfect way to treat yourself and your skin.

🌿💧🥑🌞Formulated with a collection of nourishing ingredients such as avocado oil, hemp oil, sweet almond oil, and select additives like aloe vera, silk amino acids and vitamin E, this natural lotion leaves your hands and body laced with the amazing warmth of essential oils.

**As this product contains water we must include a preservative in the ingredient list to keep away the nasties.  We promise - it is paraben free **
Ingredients

Purified Water, Avacado Oil (Persea Americana) | Emulsifying Wax NF | Sweet Almond Oil (Prunus Amygdalus Dulcis) | Stearic Acid, Glycerin, Hemp Seed Oil (Cannabis Sativa) | Aloe Vera (Asphodelaceae Liliaceae) | Silk Amino Acids, Tocopherols | Essential Oils: Cedar (Cedrus atlantica) Lavender (Lavandula) Fir (Abies Balsamea) Pine (Pinus Sylvestris) | Phenoxyethanol & Caprylyl Glycol | Sorbic Acid
Scent

Lavender Bergamot - a harmonious mix of soothing lavender and uplifting bergamot. Essential Oils: Lavender (Lavandula Angustifolia) | Bergamot (Citrus Bergamia)

Lavender Woods - a fragrant journey through a tranquil forest. Essential Oils: Lavender (Lavandula Angustifolia) | Cedar Texas (Juniperus Ashei) | Fir (Abies Siberica) | Pine (Pinus Nigra)

Rosemary Mint - a refreshing fusion of invigorating rosemary and cooling mint. Essential Oils: Rosemary (Rosmarinus Officinalis) | Peppermint (Mentha Piperita)

Rosepetal - It's like holding a bouquet of fresh, blooming roses in the palm of your hand. Essential Oils: Rose de Mai (Rosa Centifolia)

Sweet Orange Patchouli - a burst of cheerful citrus with a hint of adventure. Essential Oils: Sweet Orange (Citrus Sinesis) | Patchouli (Pogostemon Cablin Benth)

Vanilla Bergamot - like a cozy embrace with a hint of citrus sunshine. Essential Oils: Vanilla (Vanilla planifolia) | Bergamot (Citrus bergamia)
Directions

1. Start with clean, dry hands.

2. Apply a small amount of lotion to your palms.

3. Rub the lotion into your hands, nails, and cuticles.

4. Wait a few minutes for the lotion to absorb into your skin.

5. Use as often as necessary, especially after handwashing.

That's it! Enjoy soft, well-moisturized hands.
⭐⭐⭐⭐⭐
"I'm a repeat customer for this lotion because it works so well for my irritation skin!"
~ Mary S.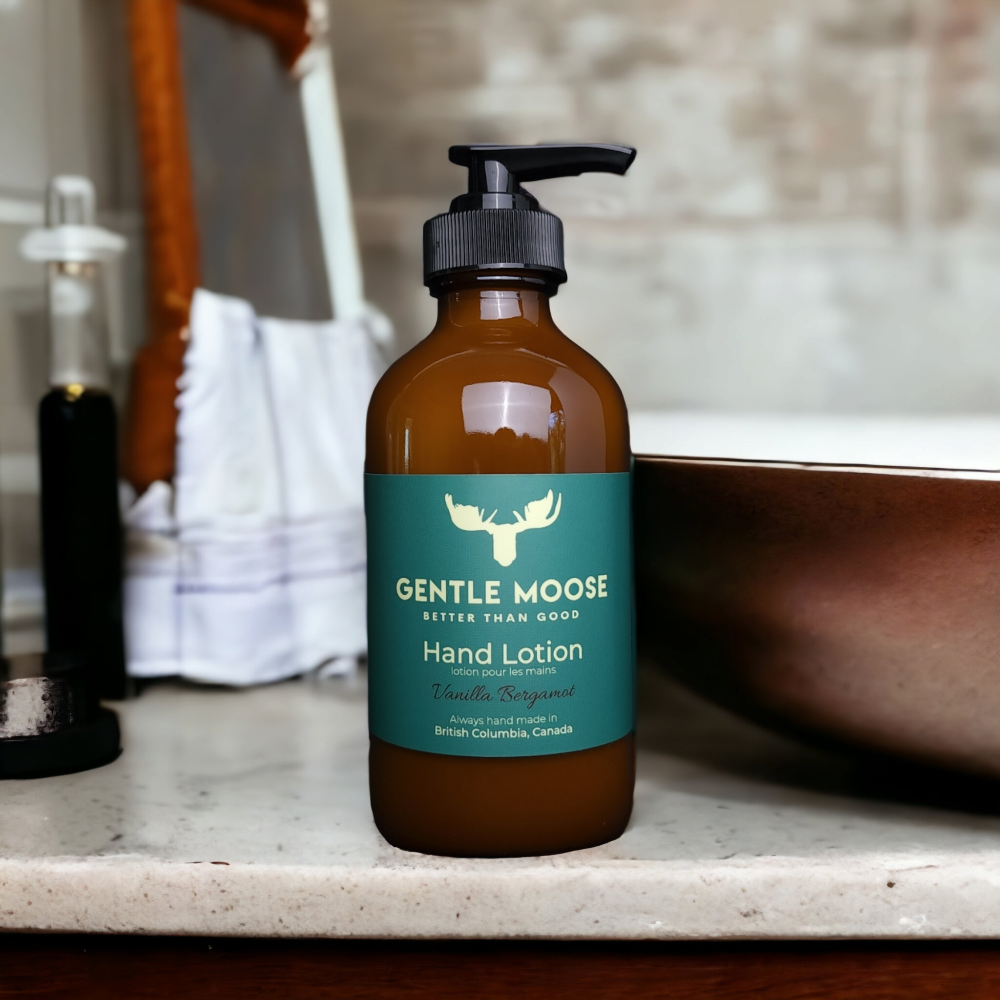 Vanilla Bergamot
⭐⭐⭐⭐⭐"I was hoping this lotion would smell as wonderful as the rose cuticle balm, and it did not disappoint! I use it every day.!" ~ Mary
All Day Freshness!