👃🏼A fusion of woody Cypress and the invigorating notes of Birch.
100G / 3.5 OZ
Regular price
Sale price
$22.00
Unit price
per
Sale
Sold out
View full details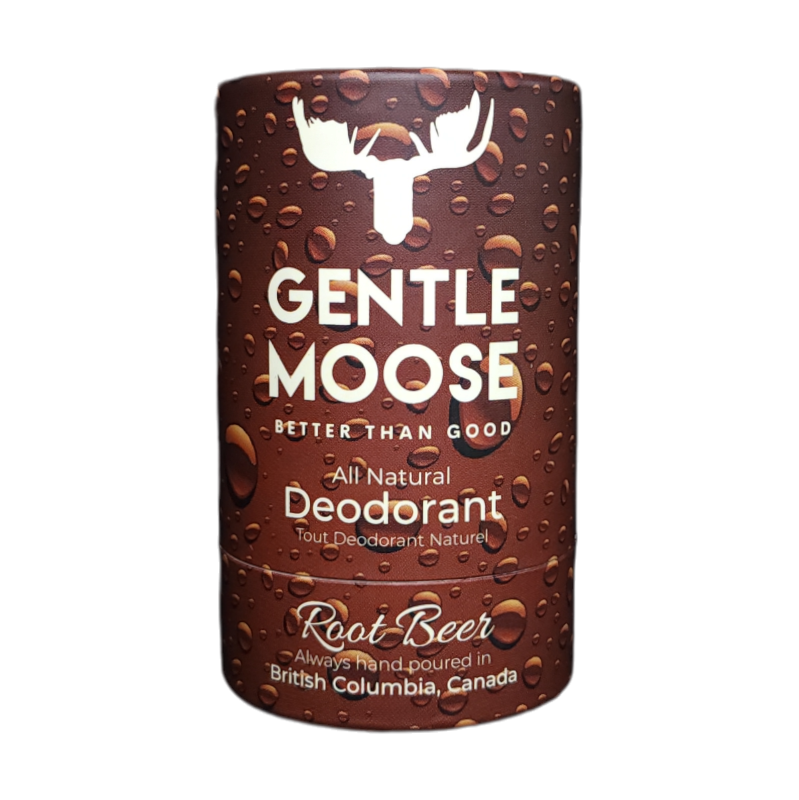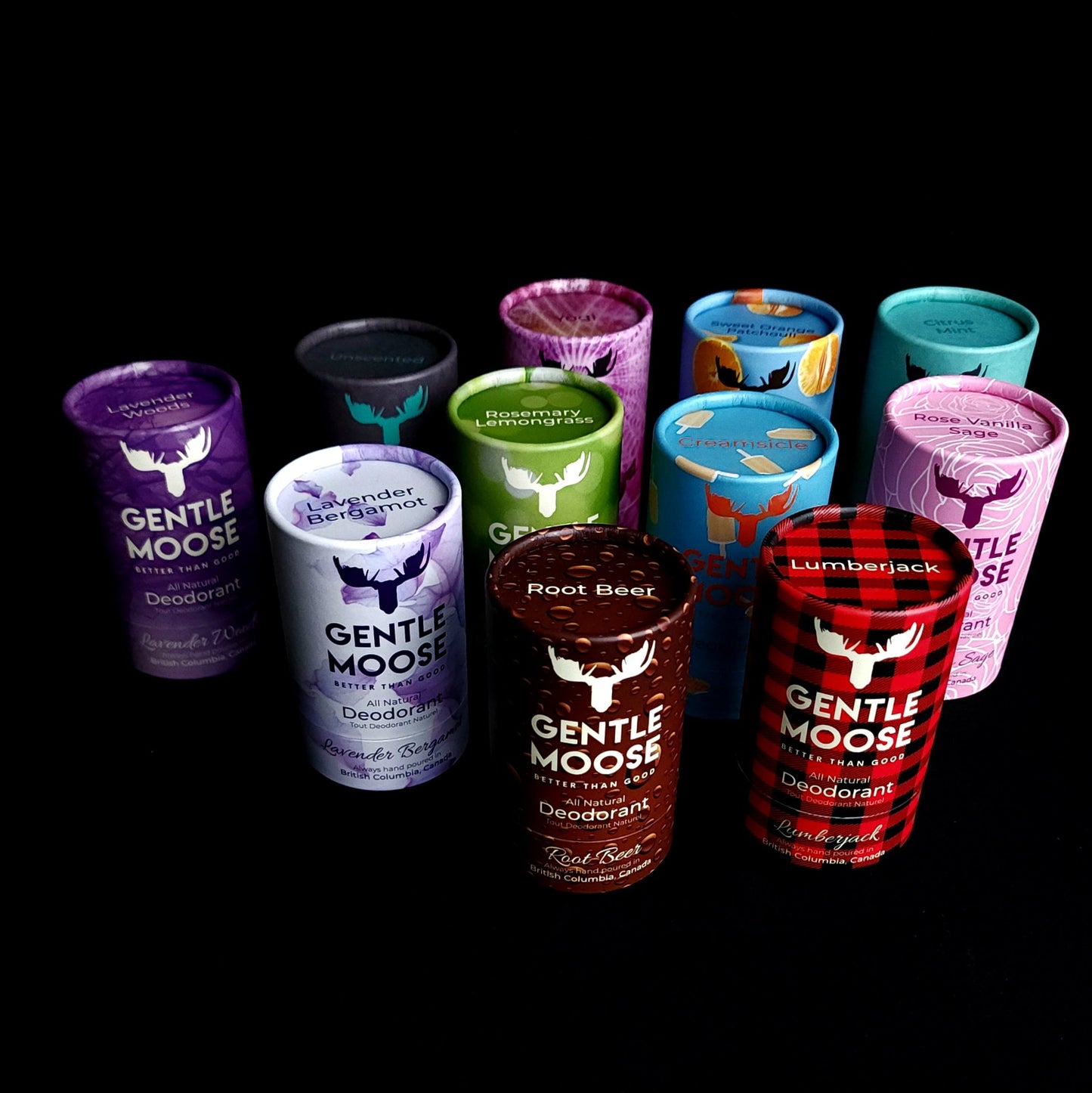 Let's Get Down to the Nitty Gritty.
Highlights

Pure Pits - Pure Confidence

🌟 Embrace the Greener Side of Freshness: With Gentle Moose, you're not just applying deodorant; you're hugging your armpits with an organic burst of nature's finest scents. You'll smell so good; you might just forget you have armpits! 🌿

🌎 Reduce, Reuse, and Smell Amazing: The recyclable and biodegradable container ensures your commitment to the environment is always in style. So, every time you pick up your Gentle Moose, you're not just choosing deodorant, you're choosing a better planet.

💪 Go Au Naturel: Aluminum-free and proud! We believe in the power of natural ingredients, and that's why our formula is a superhero against odor, without any of those nasty chemicals. It's like a mini-spa day for your underarms!

🌸 Fragrance that Blooms: Imagine walking through a secret garden of blooming wildflowers or rainforest every time you lift your arms. Gentle Moose offers a symphony of scents inspired by the lush beauty of the outdoors. It's a daily dose of fresh air!

🚀 Eco-Warrior Approved: Gentle Moose is perfect for all you eco-warriors out there. Join the mission to reduce waste, and stay fresh while you're at it. After all, a greener planet starts with a greener underarm routine.

🍀 Sweat Happens, Odor Doesn't: Life's an adventure, and sometimes that means breaking a sweat. But with Gentle Moose, odor is one less thing to worry about. It's the trusty sidekick you need to tackle any challenge that comes your way.

🐇 Kind to Bunnies: We're all about spreading love, even to our furry friends. Gentle Moose is cruelty-free because we believe in looking good while doing good.

So why wait? Unleash the freshness, embrace the green, and take your underarm game to the next level with Gentle Moose! Your armpits will thank you, and so will the planet! 🌍💚

Weight: 100 grams

Green, Natural deodorant made in Surrey, BC, Canada.
Ingredients

(+Organic) +Coconut Oil (Cocos Nucifera) | +Unrefined Shea Butter (Vitellaria Paradoxa) | Arrowroot Powder (Maranta Arundinacea) | +Beeswax (Cera Alba) | Avocado Oil (Persea Gratissima) | Magnesium Hydroxide | Kaolin Clay (Kaolinite) |

Essential Oil varies per scent. Please see the "scent Tab" for specific essential oils used.

Aluminum & Baking Soda Free!

No nasty chemicals, parabens,
toxins or artificial ingredients are ever used.
Scents

Root Beer - a fusion of woody cypress and the invigorating notes of birch

Cypress (Cupressus sempervirens) | Birch (Betula lenta)
Detoxing

PLEASE, don't give up!

Transitioning to Gentle Moose natural deodorant is a great choice! It may require a brief adjustment period for your body to detoxify from conventional products.

Here's how to ease the process:


Gradual Transition: Start by using your natural deodorant gradually. You can alternate between your old deodorant and Gentle Moose for a little while.

Cleanse Your Armpits: Before applying Gentle Moose deodorant, gently cleanse your underarms to remove any residue from your previous product. Use one of our mild, natural soaps to do the job.

Exfoliation: Regularly exfoliate your underarms to help remove dead skin cells and assist in the detox process. You can use our Body Polish for a gentle scrub and some extra nourishment.

Stay Hydrated: Drink plenty of clean, filtered water to help flush out toxins from your body. Staying hydrated is essential for any detox process.

Dry Brushing: Dry brushing your skin can help stimulate lymphatic drainage, which can assist in detoxification. Use a soft brush and gently brush towards your heart from your armpits.

Sweat It Out: Encourage your body to sweat, as sweat helps expel toxins. Regular exercise, saunas, or hot baths can be beneficial.

Patience: Be patient and give your body time to adapt to the natural deodorant. It may take a few weeks for your body to regulate its natural odor.

Reapply as Needed: Natural deodorants may require more frequent reapplication. Don't hesitate to reapply during the day if you need to stay fresh. Eventually you wont need to do this, and you may even start to skip days.

Diet Matters: What you eat can impact body odor. Consider a diet rich in fresh fruits and vegetables, and avoid foods with strong odors like garlic and onions.

Remember that the transition period can vary from person to person, so be patient with yourself as your body adapts to the natural deodorant. Once the detox period is over, you'll enjoy the benefits of using a natural product that's better for your health and the environment.

Do you want the absolute best product for you and your family's health? Give the Moose a try!
Directions

Apply to clean skin, under each arm. Be careful applying directly after shaving as it can cause irritation.

** Important Deodorant Tube Instructions: at the bottom of the paper tube is a circular wafer that pushes up the deodorant. You MUST push this straight up in the middle to get the deodorant to move up the tube. If you push on either side, the wafer will go up on an angle and the deodorant can squeeze out the bottom.

PRO TIP - You can prop a flat object like a lipstick or anything flat that will fit (slightly smaller in circumference) inside the tube on a counter, put your deodorant on top of the lipstick and press down. This will help push up the deodorant evenly. ONLY push up slightly so a small amount comes up (1/10th of a centimetre) at a time or what you are going to use that day. The lids do not give you any room for the deodorant to stick way up past the top of the tube. It might be a little finicky at first but you'll get the hang of it and if it takes some effort, well... everything fabulous in life takes effort! A little patience = less plastic in the world. Hope this helps!

DISCLAIMER: The consistency of the deodorant is a creamy paste and needs to be kept in a cool environment to avoid getting too soft.  When using it should only be a very light coating on your skin. There should never be enough on your body to transfer to your clothing. It "CAN" stain your clothing but, only when too much product is applied to your underarms!
⭐⭐⭐⭐⭐
"The initial reason I bought the deodorant is I'm trying to buy things made closer to home in British Columbia or Canada. I've never tried any deodorants other than typical name brands and this is my first experience with a natural deodorant and I prefer it now. I definitely put it to the test using it everyday as an industrial mechanic working in hot buildings and working around the farm. Lasts all day and is comfortable. I tried the citrus mint, rosemary lemon grass, root beer and lumberjack. The lumber jack wasn't quite what I had expected, only thing I would change is maybe more of a pine tree smell since the cedar doesn't come through quite how I expected and doesn't last as long as the other scents (however no odor noticed). But all in all I'm very happy and will buy again and look forward to trying any other new scents as well!"
~ Colton B.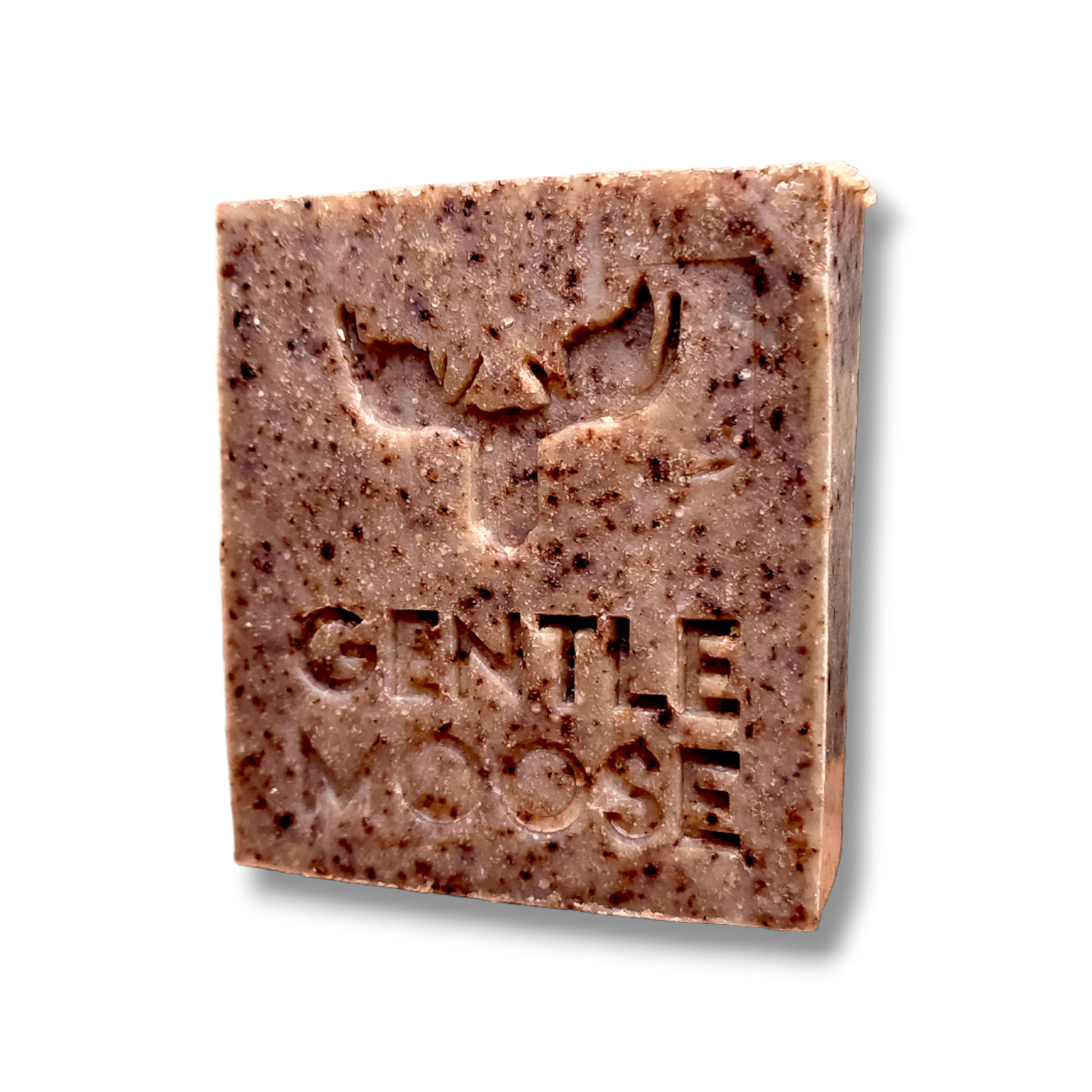 ROOT BEER SOAP
Our fabulous smelling and nourishing Root Beer soap not only bubbles up to a creamy lather, it cleans just as well without stripping your skin of it's natural oils.
ROOT BEER